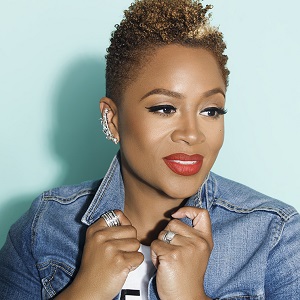 Avery*Sunshine.com
 ALBUMS
Heaven Is Right Here (2017)
Twenty Sixty Four (2017)
Come Do Nothing (2016)
The Sun Room (2014)
Avery*Sunshine - Summer EP (2011)
Avery*Sunshine (2010)
AVERY*SUNSHINE
#1 Billboard Chart hit, "Call My Name," (SUNroom Album) won ASCAP's Rhythm and Soul song of the year award (2016).

"A true soul singer and distinct voice in R&B, Avery*Sunshine is in a lane of her own with a musical presence that is as relatable as it is mysteriously captivating." - Rachel Davis - Essence"

"With over 200-plus reviews and features, including VH1.com, Vibe.com, BET.com, JET, USA Today, The Washington Post and more, Avery has made her presence known..."

"With nothing more than a guitar accompanist, her two hands at the piano and a jazzy gospel voice that could loosen bricks from their mortar, she lit the Lincoln Center up in record time." – New York Times

"...refreshing, sweet with just the right amount of spice to keep the palette satisfied...all of us could use a hearty dose of Sunshine. Enthusiastically Recommended." – Melody Charles - Soul Tracks
Avery*Sunshine Album:
Twenty Sixty Four

Genre: R&B Pop Gospel
Released: April 21, 2017
Catalog #: SHA-5836

The #1 smash hit single "Call My Name" (an astounding 8 weeks at #1 on the Billboard Urban AC chart!) from her breakthrough album, The SUNroom, established the dynamic singer/songwriter/pianist Avery*Sunshine as one of the hottest new stars on the R&B scene. Her incredibly powerful live performances have won her legions of dedicated fans from coast to coast. Now, with the release of her inspired new album, Twenty Sixty Four, Avery*Sunshine continues to take the R&B world by storm. Led by the hit bound first single "Come Do Nothing," Twenty Sixty Four builds on the momentum ignited by The SUNroom, filling a void for those starved for authentic, message driven soul anthems!
Some people have a calling that is undeniable and Avery*Sunshine is no exception. Yet the former church pianist/musical director, who scored a #1 Billboard chart hit, was at once a reluctant warrior. "I had no idea that my work in the church would prepare me to do what I do." Bringing people together through her riveting stage performances, candid and often humorous stage banter and optimistic anthems about love and life is what Avery*Sunshine does best. In fact she does it so well, that she has garnered praise from iconic musical figures like The Queen of Soul, Aretha Franklin, who raves, "I love Avery*Sunshine!" ​The Atlanta based singer's no holds barred signature soul/R&B sound has also made believers of such luminaries as Patti LaBelle, Berry Gordy and Boy George who proclaimed on twitter "@averysunshine love this woman's voice".

Avery*Sunshine and her musical partner (now husband) and guitarist Dana "Big Dane" Johnson, have collectively either collaborated and/or toured with everyone from Anthony Hamilton, KEM, Will Downing, Gregory Porter, DJ Jazzy Jeff, Babyface and Roy Ayers to B.B. King, Michael Buble and Jennifer Holliday.  

Avery*Sunshine's #1 hit single "Call My Name" from her critically heralded sophomore project THE SUNROOM, was awarded ASCAP's Rhythm and Soul song of the year 2016 award. There have been numerous sold out shows and career milestones that have included opening for Babyface at Madison Square Garden, performing for Smokey Robinson at his Rock 'N Roll Hall of Fame tribute to being invited to perform by and for the Queen of Soul, Aretha Franklin, twice in one year. In the same year Avery was nominated for a SoulTrain award and a BET Centric Award.
 
While she continues to tour the world: everywhere from many countries in Europe to Asia, Africa, the UK and Australia, she and Dana never stop creating and recording. Twenty Sixty Four, Avery*Sunshine's 3rd release, which is scheduled for release in the UK and Europe later this year, features organic soulful in-the- pocket grooves, sublime ballads, exquisite arrangements/orchestrations and exuberant life affirming tracks. The vocals shine throughout, the production is tight and the songwriting hits home.  

Avery*Sunshine describes herself as a cross between Oprah Winfrey and Bette Midler. To experience her live is to understand this notion. In a genre that is inundated with singers, Avery*Sunshine has forged a way for herself by staying true to her musical vision. "My greatest wish is for our music to empower and encourage, in some way, everyone who hears it. That is why Dana and I do this", shares the radiant singer. With the upcoming release of Twenty Sixty Four, Avery*Sunshine concludes, "I am always striving to fill the space that I was created to fill. And I pray that the small space that I occupy in this world reminds everyone to SHINE no matter what."